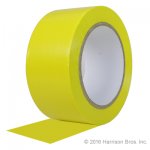 We sell a lot of other tapes besides paper floor marking tape, and sometimes a customer mistakenly orders the wrong thing. The results can be disastrous for you floor's finish.
This is particularly true for a couple of our products, dance floor tape and aisle marking tape. These tapes have very aggressive adhesive because they are used in environments where they need to stick under extreme pressure.
Dance floor tape is designed for seaming temporary vinyl dance floors and it needs to hold fast when dancers jump and slide. It can be removed from this type of flooring with no damage to the floor.
Aisle marking tape is intended for long term temporary floor marking on non-wood floors, often used in place of painting. It not only needs to stand up to lots of foot traffic, but may also be driven over with forklifts and pallet jacks. Using it on a finished or painted wooden floor all but assures that the finish will be damaged when the tape is removed.
If you need temporary gym floor lines on a wooden floor, stick with paper tape.