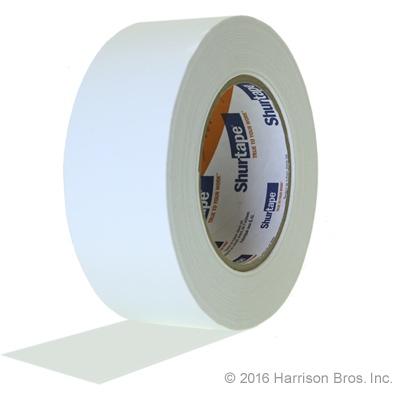 We sell a paper tape that we recommend for temporary marking of gym floors. It uses an adhesive that is designed to remove cleanly, leaving no residue, and not damage the floor in the process. It is made of paper, and, unfortunately, long term durability is not one of its features
We also sell several tapes that can be used for taping gym floor mats. They are definitely not the same thing.
Lots of facilities that use their gyms for non-athletic events (things like concerts and seated events) have rubber matting that they can put down to protect the floor. It does a good job, but is very labor intensive and it requires storage space when it is not in use.
Since this type of matting usually comes in rolls, you need a separate tape to hold the edges of the rolls together so that you don't create a tripping hazard.
The best tape for this is a vinyl tape which has a much more aggressive adhesive than paper tape used for floor marking.
It is a one time use product that will normally come up from the floor with little or no adhesive left behind, and it is much more durable than gym floor tape.
Harrison Bros. Inc.
TheTapeworks.com
Voice 866-386-8335
Fax 800-327-6651
Email sales@harrisonbros.com